Much is made of statements such as, the first casualty of war is the truth which some claim dates back to the ancient Athenian playwright Aeschylus – a proud veteran of Marathon and Salamis –in the fifth century BC, or the metaphor the fog of war which some have attributed to the 19th Century Prussian general and military theorist, Carl von Clausewitz. So, when I began to write a song about my great-uncle, John Joseph Mitchell, who was killed in action at Passchendaele on the 18th of September, 1917, I came to realise the sad truth of these aphorisms.
There is a wealth of information to be gleaned on websites, such as those connected to the Australian War Memorial, and, also, from family members, which is helpful in trying to piece together what transpired more than 100 years ago. But so much was still tantalisingly out of my grasp. I was confronted with a sprawling puzzle, the pieces from which I could not form a coherent picture, no matter how I tried.
I was on the verge of giving up on the idea of writing a song to commemorate the sacrifice made by J. J. Mitchell, when a thought… (I think that's what it was)… flashed into my mind: Remember way back when you attended Eng Lit lectures in Belfast 50 years ago, and the sad old bloke at the front of the room burbled on about the concept of the unreliable narrator? You know, that time before you walked out, intent on sinking a few pints of Harp at The Hunting Lodge in Andersonstown before dinner? Yeah, so what? Well, sunshine, why not apply this to your predicament now? Better late than never, right?
And so it clicked! Of course, we live now in the era of fake news and post-truth. Who cares any more about what is real? Ah, sorry, I do.
But still, still, something lodged in my brain. Why not have John Joseph Mitchell, my great uncle (or JJ as I shall refer to him henceforth) narrate a portion of his life, after a brief mention of his birth in Belfast, from his meeting with his wife, Hannah in 1903 to his death next to a captured German blockhouse near Hell Fire Corner and Polygon Wood in Belgium in 1917?
And this was the key that provided me with the audacity to write a song about his life and death. JJ was one of more than 62,000 Australian men killed in that awful conflict- and those numbers from population of less than five million people! Is it any wonder that there are memorials in just about every Aussie city, suburb, town, and hamlet to mark the sacrifice?
I usually don't include lyrics; but here, because of the need (IMHO) for explanatory footnotes, I set them out- with thanks to my nephew in Glenariffe, Joe Mitchell, who, apart from supplying me with a wealth of information about JJ, ran a professional sub-editor's eye over my drafts and steered me away from errors of one kind or another (that is, both egregious and just plain dumb). Any remaining lacunae, anachronisms, or solecisms, of course, are not down to Joe Mitchell- but me, your honour!
(I Wasn't With The Diggers) Marching Home From That War (dedicated to the memory of Pte J.J. Mitchell, K.I.A. 18th September 1917)
They gave me a number: 5-1-4-1; on my slouch hat pinned the Rising Sun1 From Port Melbourne to Plymouth Sound with the 22nd we were Europe bound2 Belfast born but I didn't stay long; these itchy feet keep moving me along In Liverpool I met fiery Hannah, fell for her although she had a child
Hitched up after I agreed to take the soup3, we set up shop in Melbourne town She's a nurse, I'm an engine-fitter, there is nothing here will ever get me down! But four kids on, completely worn through, life has given this for free
22 Church Street feels like a coffin, A. I. F.4 enlistment now for me
Billeted in Rollestone5 Camp in Wiltshire, bleak and under canvas – what care I? Went walkabout against the regs6 as Aussies often do- six days docked I paid, all told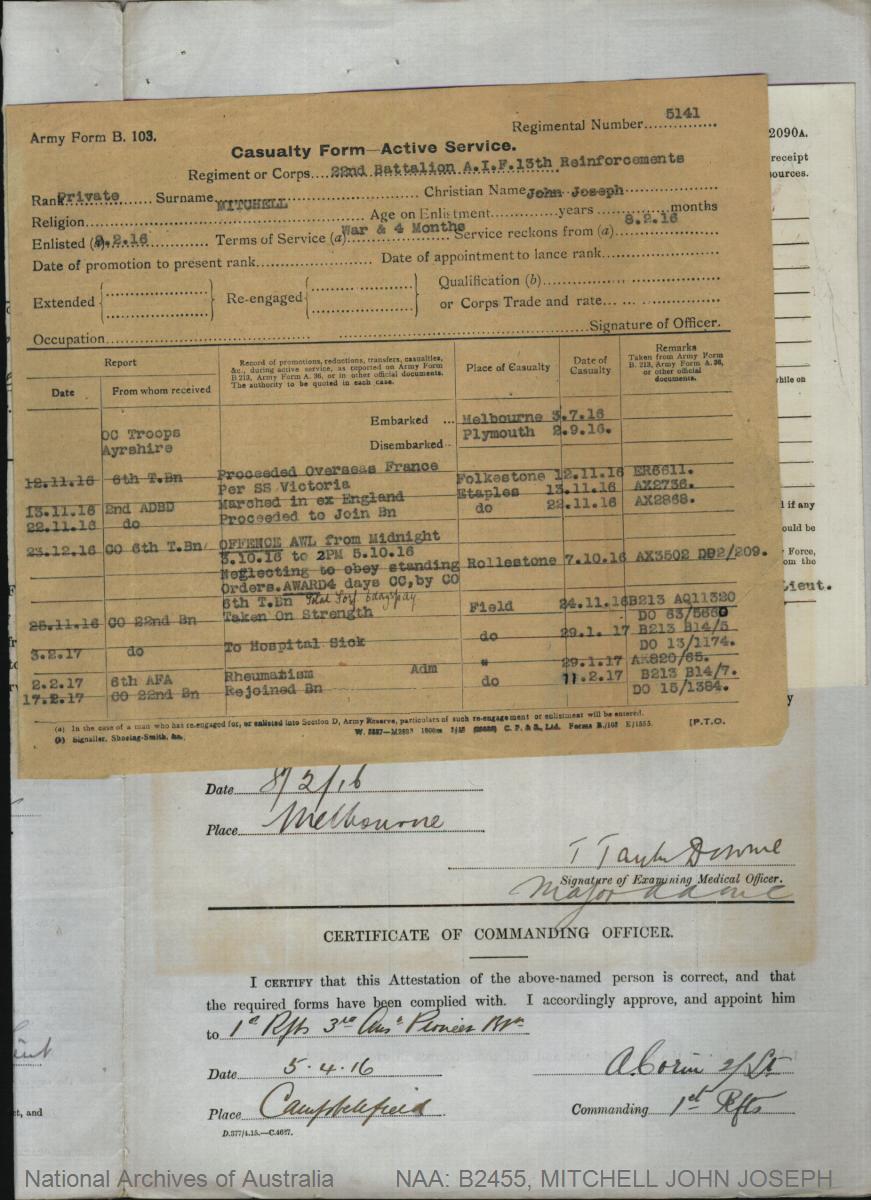 Bed-ridden for two weeks with rheumatism, isn't it a bugger getting old? Off to France tomorrow, will I return upon another tide?
I don't take it well when told what I should do – a problem I've had all my life It's why I call myself a Digger7 now: instead of bullshit, we would rather fight A good bloke would write on my conduct sheet: 'This man served at Bullecourt'8 That's a boast it's true but what came next was the hell you know as Passchendaele9
It ended thus: a midnight blitz on a German blockhouse- then the fatal shell Hannah got her Dead Man's Penny10 and the scapulars11 that hung around my neck Now with my pals Twist, Kunin, Kelly, Carey, Bragg, Baker, Kennedy, Northcott and Ray12 Side by side in Hooge Crater Cemetery13 as we await the judgement day
Old Father White said a Requiem for me one hundred years after I was killed14 The chapel in Glenariffe overlooks the beach15 where I paddled when I was a boy Place a poppy by my name16 on the bronze tablets they set up in Canberra for all Those, for any reason, who served, who fought, who sacrificed and fell
And I'm still marching through your mind as you try to work out just who I am There's nothing I can share that will help you write this song But one thing I can tell you that is true: I wasn't with the Diggers Marching home from that war…
The Rising Sun

badge, also known as the General Service Badge or the Australian Army Badge, is the official insignia of the Australian Army and is mostly worn on the brim of a slouch hat. Here is the badge JJ would have worn, in use from 1904 to 1949.

we were Europe bound

The HMAS Ayrshire transported JJ along with thousands of Australian soldiers from Port Melbourne to the war zones of Europe and the Middle East. The men of the 22nd Battalion of the A.I.F. were involved in major conflicts from Gallipoli to the Western Front.
To take the soup sounds rather quaint- but harmless. However, in the Irish Catholic oral tradition it has a sinister meaning. Souperism was a phenomenon of the Irish Famine. Protestant Bible societies set up schools in which starving children were fed, on the condition of receiving Protestant religious instruction at the same time. Its practitioners were reviled by the Catholic families who had to choose between Protestantism and starvation. By extension, even into the 20th Century, Catholics who converted to Protestantism, for any reason, were said to have taken the soup.

The Australian Imperial Force (A.I.F.)

By the end of the war the A.I.F. had gained a reputation as being a well-trained and highly effective military force, playing a significant role in the final Allied victory. However, this reputation came at a heavy cost with a casualty rate among the highest of any belligerent for the war.

Rollestone Camp

: Situated in an upland area of Wiltshire, it was described by one soldier stationed there as a bit bleak, especially for Australians used to a warmer climate. The water froze around Christmas time, and one night the troops' corrugated iron cinema was blown away.
walkabout against the regs The Australian soldiers were not much inclined to obey what they would have seen as onerous and restrictive regulations. JJ, like many others, had his pay docked. In his case it was for being AWL for two days. The term walkabout is properly associated with the initiation ceremonies of Australian first nations' young boys who prove their capacity for the transition to manhood by foraging in the Australian bush. As the estimable Wikipedia puts it Walkabout is a rite of passage in Australian Aboriginal society, during which males undergo a journey during adolescence, typically ages 10 to 16, and live in the wilderness for a period as long as six months to make the spiritual and traditional transition into manhood. I would hope I am not disrespecting our aboriginal traditions and lore by using this term to characterise the ways in which our Diggers struck out, in the ghastly reality that was the battlegrounds of the First World War, to assert their Australian manhood and identity. I know that there is a long and honourable tradition of Aboriginal service in conflicts in which Australia has been involved, yet to be fully acknowledged.

Digger

as a usage has been traced back to early 19th Century but its current usage in a military context did not become prominent until World War I, when Australian and New Zealand troops began using it on the Western Front around 1916–17. Evolving out of its usage during the war, the term has been linked to the concept of the Anzac legend, but within a wider social context, it is linked to the concept of egalitarian mateship. I imagine that JJ would have latched on to the term Digger as a matter of pride!

Bullecourt

more than any other battle, shook the confidence of Australian soldiers in the capacity of the British command; the errors, especially on April 10th and 11th, were obvious to almost everyone. Charles Bean, Official Historian.

Passchendaele

. The battle took place on the Western Front, from July to November 1917, for control of the ridges south and east of the Belgian city of Ypres in West Flanders. In his Memoirs of 1938, Lloyd George wrote, Passchendaele was indeed one of the greatest disasters of the war … No soldier of any intelligence now defends this senseless campaign.

Dead Man's Penny

. This was a round bronze Memorial Plaque, 120 mm in diameter. It shows Britannia and a lion on the front and bears the inscription: He died for freedom and honour. The full name of the dead soldier is engraved on the right hand side of the plaque. No rank, unit or decorations are shown, befitting the equality of the sacrifice made by all casualties. The shape and appearance of the plaque earned it nicknames such as the Dead Man's Penny, the Death Penny, and the Widow's Penny.

Scapulars

. A small necklace of sorts constructed from two wool patches of cloth. The most common scapular in Ireland in JJ's time was the Brown Scapular of Our Lady of Mount Carmel upon which the words, Whosoever dies wearing this scapular shall not suffer eternal fire are stitched. I can remember wearing one like it when I was a boy, and, I think, it was the brown scapular…

Twist, Kunin, Kelly, Carey, Bragg, Baker, Kennedy, Northcott and Ray.

These are some of the men killed in the H.E. blast that took JJ's life. They are included in the lyric line as a litany to stand for the multitudes who perished in the conflict. May they rest in peace.

Hooge Crater Cemetery

was begun by the 7th Division Burial Officer early in October 1917. [ shortly after JJ was killed] It contained originally 76 graves, in Rows A to D of Plot I, but was greatly increased after the Armistice. There are now 5,916 Commonwealth servicemen of the First World War buried or commemorated in this cemetery. 3,563 of the burials are unidentified, but special memorials record the names of a number of casualties either known or believed to be buried among them, or whose graves in other cemeteries were destroyed by shell fire.

one hundred years after I was killed

My nephew, Joe Mitchell, arranged with the parish priest of Glenariffe, Father White, to have a Requiem Mass said on the centenary of JJ's death. This was streamed online and I was honoured and deeply moved to be able to watch this event in real time from my home in Sydney, Australia.
The chapel in Glenariffe overlooks the beach The chapel JJ would have known as a boy was burned down in 1915. Red Bay beach which stretches from the chapel site to the river at Waterfoot a mile or so away has been popular with holiday crowds for a long, long time.

Place a poppy by my name

A quarter of a century ago, when Joe Mitchell wrote to me about JJ, I made a point of travelling to the War Memorial in Canberra where I placed a poppy next to his name, which I found on the rows of bronze tablets where, listed in alphabetical order, are the names of the fallen. On every visit since, I have placed a poppy next to his name, and, COVID restrictions allowing, our family will soon re-visit the site and continue the tradition of honouring his memory.
I wasn't with the diggers marching home from that war. Some might think this is an incredibly stupid and self-evident statement as an ending for the song.
But I think (to set aside, for one moment, the traditional and eschatological Christian view) that any fallen warrior would regret the descent into Hades rather than returning to the sunlit meadows of our own fair Earth.
JJ's anguished final cry in the song, is the one I would feel in his position, as I sank Lethe-wards and, reluctantly, crossed the Styx.
As I look at the grainy photograph of that handsome, mustachioed, face of my relative from over a century ago (of a man who is much younger than I am now) I hope that JJ will forgive me for any inadvertent misrepresentation that is embedded in the lyrics and accept that all I was trying to do was to honour his memory.
I felt a similar twinge about a quarter of a century ago when I wrote a song about my paternal grandmother, Rose, which can be accessed at https://quentinbega.com/2016/08/13/sq-41-rose/. My nephew, Joe Mitchell, was instrumental in my writing this song, too! Rose was another casualty of that war- not that she was a combatant. She was interned in Germany and returned to Ireland where she perished in an asylum, her mind broken by the trauma of imprisonment and separation from her husband- another Mitchell, who was captain of a ship en route to Hamburg as the clouds of war gathered.
[The author's grandmother, Rose Henry Mitchell, was an officially unacknowledged casualty of WWI (at least her name is not inscribed on a monument) for reasons set out above but she is still remembered by her kin. Rose has a simple marker in the Bay cemetery, Glenariffe, and flowers are still being placed on her grave. Rose, married to John Joseph's brother James, died of pulmonary phthisis in Antrim Area Asylum on November 19, 1915 nearly two years before JJ's death in action . The site of the old Mitchell farm in the townland of Foriffe in Glenariffe – which would have been known well by both JJ and Rose – is still in the family.] additional notes by Joe Mitchell